Working principle and application of rod mill
Views: 313 Update Date:Feb 18 , 2021
Rod mill is made up of feeding part, discharging part, gyre part, transmission part (reducer, small transmission gear, motor, and electrical controller) and so on, which runs steadily and efficiently. Rod mills are an efficient crushing machine for grinding various materials into powder.
Rod mills are widely applied in cement industry, chemical industry, new building materials, fire-resistant materials, fertilizer, porcelain and glass industry etc. Rod mill crushes generally coarser than those produced in Ball mills, and rod mills are well suited to handle coarser feed and to control the bigger size of the product. Rod mills have Type RO, RE and RC depending on different purposes.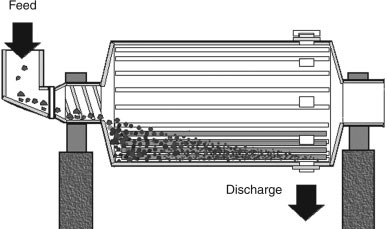 Working principle of rod mill
Rod mills run along the outside gear. Materials spirally and evenly enter the crushing chamber along the input hollow axis by input devices. Steel rods of different specifications are installed in the crushing chamber. When the frame rotates, centrifugal force is produced. At the same time, the steel rods are carried to some height and then fall to grind and strike the material. After grinded in the crushing chamber, the powder is discharges by output material board.
The rod mills are horizontal cylindrical rotation device, driven by brim gearwheel. There are two chambers and grid. Material goes into the first chamber through the feeding inlet. Inside the first chamber, there are stage liners and ripple liners as well as steel balls. The shell rotates so as to generate electricity, and this force brings ball to a certain height and then balls drop down by gravity, the impact is the grinding force to the material. After the primary grinding, materials go into the second chamber through segregate screen. In the second chamber, there are flat liners and steel ball, after the secondary grinding, material is discharged from the discharging. Then the whole grinding process end.