Why forged steel ball is good for grinding performance in mills?
Views: 283 Update Date:Feb 08 , 2021
Grinding media shape is very important for grinding performance, most of the researches conclude that balls are better than cones. Cylindrical grinding media also known as grinding cylpebs have long been replaced by smaller spherical grinding media like forged steel ball, as they have been found to be more efficient. One of the most important variables is the surface area or string generated by the grinding media, in this way balls and cones have different surface area for same diameter, so when performance is evaluated it must be corrected the surface area for each type of media.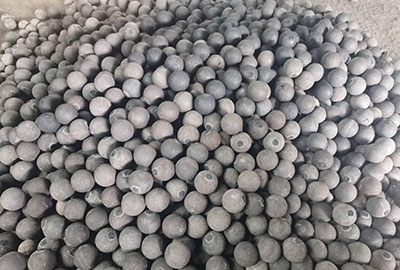 Are you are looking for grinding efficiency or grinding costs?
Grinding efficiency: as a first estimate, there is no major difference if you ad the same ball sizes (to control mill power draw).
Grinding costs: very much depends on the milling conditions. Main parameters are corrosion (ie iron ore), impact (ie grate discharge ball mills) and abrasion (ie sand milling industry).
One approach is to take a sample at the outlet of the mill (to analyze for corrosion and abrasivity) and to go into the mill (to evaluate impact conditions such as liner design, filling degree, OF/GD, mill revolution speed). Then do a "marked steel ball test" with different alloys and check which ones gives you the best results.