Top 9 grinding steel balls manufacturers you need know
Views: 1318 Update Date:Sep 04 , 2018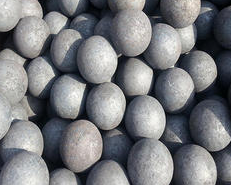 Do you plan to purchase some high quality grinding steel balls? Here today, we will share top 9 grinding steel balls manufacturers with you. I hope this information will be helpful.
1. grindingball.com
Grinding Ball, ALLSTAR INDUSTRY GROUP LIMITED, a certified ISO 9001 company, is the world-leading manufacturer of
grinding media ball
, grinding steel ...
2. metso.com
Metso offers a unique combination of quality grinding media manufacturing, unmatched expertise of the grinding process and grinding optimization services.
3. molycop.com
Moly-Cop manufactures grinding balls to exacting internal specifications at its grinding media production facility across the globe. The balls are manufactured from high carbon, alloy steel bars and then forged into balls.
4. hhsons.com
We are a global supplier of high quality grinding steel ball media for the mining & aggregate industries. All sizes and types for any grinding needs!
5. energosteel.com
Energosteel company produces steel grinding balls with a diameter of 20mm to ... you will be satisfied with the quality of our grinding media and our partnership.
6. rgpballs.com
Grinding media balls manufacturer RGPballs offer a wide range of balls in various materials. These include ceramic grinding balls which are ideal for use where ...
7. balaji-castings.com
Conventionally,
grinding media
was made of Cast iron, Cast steel and even ... De-shaped balls are like dead balls, which do not assist in effective grinding, and ...
8. windsorsteelballs.com
Manufacturer and Supplier of High Chrome Steel Grinding Media Balls, Steel Balls, Ceramic Balls, Bearing Balls. We have Wide range of Aluminium Balls, ...
9. smlcastings.com
Manufacturer of Grinding Media Balls - Hyper Steel Grinding Media Balls offered by Shree M. L. Castings Private Limited, Jaipur, Rajasthan.
Prev: Report on the Use of ALLSTAR Hi-Cr Steel Ball In Cement Plant
Next: The main benefits of grinding steel balls