Allstar: Certified Casting Steel Ball Manufacturer
Views: 1241 Update Date:Dec 18 , 2017
We are Allstar Industry Group Limited, and a Certified ISO 9001 organization. We are one of the famous Grinding Media manufacturers along with an annual production ability of 100,000 metric tons. Our organization is accomplished in the year 1985 supplies optimized product solutions for mineral processing plants, power stations, cement plants and some other chemical fields. Allstar Grinding media consists of grinding ball,
grinding media ball
, casting steel ball,
grinding steel ball
a hot rolled steel ball. It is highly featured by uniform hardness, high-resistance to wear as well as impact, low-breakage and also no deformation & assistance by latest new manufacturing tools and also scientific manufacturing procedure. The grinding media is along with stable quality exporting to excess than 30 nations along with biggest markets being Canada, USA, South Africa, Mexico, and much more.
Positioned in Jinan city, Shandong province, Allstar covers 15,000 square. meter along with over 150 workers, and professional technicians. Throughout spending in folks, procedure and also latest new technology, the firm is highly prepared for modifications which will inevitably happen in this dynamic global surrounding. We also welcome you to come and visit our plan, fulfill our folks and also gain firsthand efforts we make to assure total customer fulfillment. Along with thirty-two years of knowledge of manufacturing, Allstar is your most trusted supplier of grinding media. Whether your results requirement, our attractive service is at your side, anywhere. We also aim at enhancing your operational efficiency, improving profitability and also minimizing prices and losses.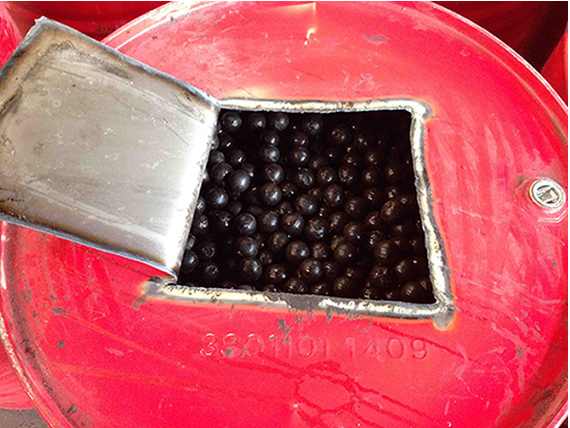 Allstar
casting steel ball
is generated by the metal mold however not sand mold. Besides, a metal mold can be quicker cooling smelted metal that creates structure finer as well as uniform. On the other side, metal mold & Allstar advanced heat treatment technology creates the Allstar casting steel ball along with better impact fatigue resistance the minimum abrasive wear. Some of the applications areas of casting steel ball such as:
Ball mills/vertimills
Power stations
Mineral processing plants
Cement plants
The major advantages of this steel ball such as they are high wear resistance, uniform hardness all through. Besides, there is not deformations and has resistance to breakage. We are one of the foremost and certified manufacturers of superior quality and also trusted grinding media. Our firm has a highly experienced team those who have superior expertise in developing and also supplying optimized products & sounds. All our products are ideal for cement plants, power stations, mineral processing, quarries and much more filed.
Prev: Allstar is the main provider of grinding media balls
Next: How Much Do You Know About Grinding Media Ball