Different Types of Casting Steel Balls
Views: 1967 Update Date:Apr 12 , 2018
Casting steel balls are commonly used in the chemical plant, quartz sand factory silica factors, power plant and much. Hence it becomes great demand among the market. Here most companies wish to concentrate on this area and start to deliver the end to end product and service with the top quality so it will be more comfortable to buy with the no risk of it.
Here casting steel ball is made up of scrap steel, waste of scrap and other scrap metal and it get melted with the right heating temperature frequency elector furnace and provide best and effective solution to the customer. Then the melting process of the metal alloys is added in the furnace of the chemical composition and it qualified molten iron into the production line Mold of steel ball if the temperature is get up to 1550℃ and it is well classified into many things such as:
* high chromium alloy casting ball
The chromium content in the high chromium cast steel balls is ≥10% -14%, HRC hardness≥58. In the current market, this cast alloy steel ball material has a very wide use, the price is reasonable; it can also be used in a variety of industries.
* medium chromium alloy casting ball
The chromium content in the medium chromium steel casting balls is ≥ 7% -10%, the hardness HRC≥48. The properties of medium-chromium cast alloy steel balls are better than multiple alloy steel balls.
* low chromium casting ball
The chromium content in the low chromium steel casting balls is ≥ 1-3%, the hardness HRC ≥ 45. This type of steel balls is called low chromium cast steel balls, which is made by casting in intermediate frequency electric furnace, or by metal mold or sand casting. It is applied for industries such as mines and metallurgical industries that do not require high grinding precision and low wear.
By using casting steel ball you can meet the major benefits such as high performance and low cost so most of the company wish to prefer such ball for the major users in the plant. Apart from that it has wide range applications but especially in the cement industry as the representative of dry grinding field. The casting steel ball has different production process flow of the casting ball such the inspection of high raw material and material ration, heating and melting of the high frequency furnace and much more.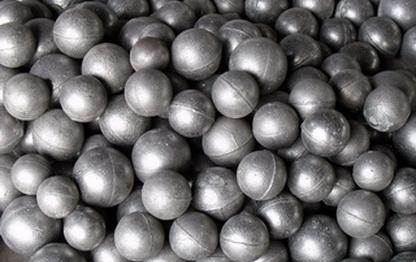 These grinding steel balls are used when worn out in the smallest diameter. Since these grinding steel ball are spherical in shape and uniformly without any appreciable variation from any balls of the same size. These grinding steel balls comply standard alloy steel composition.
Grinding steel balls
are suitable for the complicated applications suitable for crushing, grinding materials hardness and great density.
Surface smoothness is one of the biggest benefits so they do not have any defect like pits, soft sports, laps, out of round and cuts. These grinding steel balls do not get break during the operation as it is known for higher impact strength. Size of the ball could be 90mm to 140mm and Surface will be 59 to 64 HRC and the Volumetric will be 58 to 63 HRC.
Allstar uses different manufacturing method to manufacture these
grinding balls
and they are highly suitable for a variety of complicated applications such as Cement plants, Ball mills, Vertimills, Power stations, Mineral processing plants and many others. The grinding steel ball is High resistance to breakage, High wear resistance, No deformation and Uniform hardness.
Normally, quality products always give high impacts on grinding as well as crushing applications so that it would be a great option for enabling more output. The grinding balls are available in different sizes selected according to materials. Allstar manufactures the grinding balls at various sizes and the normal diameter differ from 10mm to 150 mm. Grinding balls are available in different components that include the low or high chromium content.
Allstar is the well-reputed and leading manufacturer of the grinding steel ball. Based on the customer's needs, Allstar produces high quality grinding media balls for different applications. With more than 30 years of experience in designing and manufacturing the grinding media balls, Allstar provides best quality products perfect to crush or grind the materials at the mill. The
grinding media balls
are especially suitable for the complicated applications with the advanced techniques for producing different products to the wide extent. Customer can feel free to go with All Start company and order right grinding ball with no risk of it. In addition, we provide customer support service to clear all your doubt on buying online.
Prev: Are you interested in ordering low carbone steel balls?
Next: Benefits and Uses of Casting Steel Ball