Why select high chromium alloy cast ball for cement industry?
Views: 904 Update Date:Jul 17 , 2021
Alloy cast balls are widely used in powder preparation and ultra-fine deep processing in cement building materials, metal mines, coal slurry thermal power, chemical engineering, ceramic coatings, light industrial papermaking, magnetic materials and other industries. The product has high hardness, low abrasion, good toughness, and less crushing. During use, the surface hardness of the sphere will be further improved, and the wear resistance will be enhanced. At the same time, it can increase the production capacity of the mill, and increase the specific surface area of the cement and the recovery rate of concentrate.
What kind of high chromium alloy
cast balls
used in the construction industry will be more cost-effective? In terms of chemical composition, there are dozens of different materials from low chromium to high chromium, which can be described as a wide variety. In order to standardize the industry standard, let people have a clear understanding of the chromium alloy cast ball from a rational point of view, the national standard for cast grinding balls GB/T17445-2009 stipulates that the chromium content of low chromium balls is 1%-3%, and the hardness HRC≥45; alloy ball chromium content 4%-6%, hardness HRC≥47; medium chromium alloy ball chromium content 7%-10%, hardness HRC≥48; high chromium alloy ball chromium content ≥10%-14%, hardness HRC≥58; the chromium content of the special high chromium ball exceeds 14%, and the hardness HRC≥58.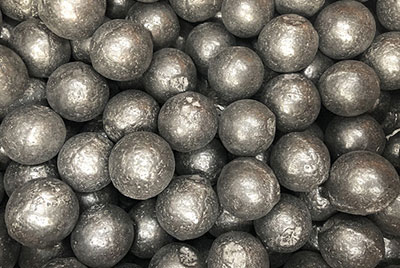 At present, most of the grinding media used in cement industry are high-chromium balls. With the continuous development of cement grinding technology, the specific surface area and fineness of cement are required to be even higher. As a cement company, the correct selection of grinding media is particularly important. The abrasive body with high wear resistance can not only improve the grinding efficiency, reduce the time of stopping the ball filling and the number of times of starting and stopping, but also extend the clearance cycle, reduce the labor intensity of the workers, and improve the grinding machine at the same time, ensuring the quality of abrasives, and reducing power consumption and abrasive consumption are of great significance.
Prev: The most important grinding media ball - low chromium ball
Next: The difference between forged steel balls and cast steel balls